Organic milk- A journey from Farm to Table; Organic milk is the mantra for healthy lifestyle today
India is the largest producer and consumer of milk and milk products. Nearly 45% of milk produced in India is consumed in the liquid form. From milk different products are obtained, among them cheese, ice-cream, khoa, butter, ghee and sweetmeats are very popular items in the country.
In India milk is considered as super food due to its health benefits. Almost every Indian drinks milk daily. Now a day's nutritious milk has became contaminated due to adulteration.
In 2012,The Food Safety and Standards Authority of India (FSSAI) made a survey where nearly 70 per cent of the milk samples failed to meet food safety standards. A majority of samples were either diluted with water or contained impurities like urea, liquid formaldehyde and detergent solution.
The healthiest food is becoming dangerous. Its losing its importance due to adulteration. People are now switching to organic milk. Today Organic milk is the mantra for healthy lifestyle in India. Indian consumers have included a glass of healthy organic to their daily diet.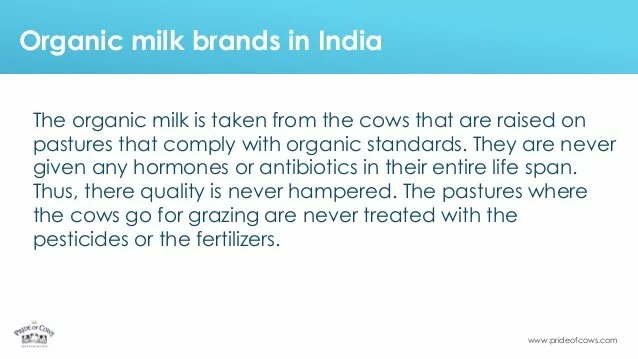 Gabriel Foods Pvt. Ltd is the first company in India to introduce organic milk in the market.
Rahul Jain and Anmol Trikannad, alumni of Indian School of Business (ISB) launched their Doctor Moo brand of certified organic milk in Mumbai. Parag Milk Foods' introduced farm-fresh milk with his Pride of Cows brand In Mumbai and Pune.
According to Danish scientists organic milk contains more vitamin E and beta carotene. British research bodies also confirmed the presence of higher levels of Omega 3 fatty acids in organic milk. Organic milk ensures zero chemical and high nutrition.
They're promising that your early morning should start with a glass of nutrition which is healthy and tasty and not adulterated with detergents or with any other artificial hormone.They have reached to health-conscious Indians who want the healthiest food on their tables and also willing to pay a premium for it. Only organic milk addressed concerns of Indian people regarding the quality of milk they have been consuming, From Mumbai to Gurgaon and Bangalore to Chennai, a number of entrepreneurs have come up, who deliver premium cow's milk from the farm to the doorsteps.
Sarda Farms has introduced its farm-fresh cow's milk in Nashik. In Gurgaon, the information technology-to-real estate Landmark Group has won over customers with its Wholly Cow certified organic milk in the last few years. In Chennai, textile exporter Rakesh Ravindran and his father M. Ravindran have been selling their Astra Dairy Farms' raw cow's milk since 2012.
Bangalore, G.N.S. Reddy's Akshayakalpa Farms and Foods has also been delivering its Akshayakalpa cow's milk, which is produced at organically managed farms near Bangalore.
Hyderabad based Kiaro are also providing farm-fresh milk. Provilac Dairy Farms Pvt Ltd has been selling organic milk since 2013  in Pune.
In view of a huge demand for organic milk in the global and Indian markets, ECOCERT has organized a national convention on organic milk and milk products in Ahmedabad on November 14, 2009.
The players are focusing on cow's milk as it's considered healthier because of its low fat content. They're confident their product is superior and pure in quality. the organic milk,finally succeeded to remove a major portion of ill treatments associated with traditional milk system.   They're also pampering their cows with the best organic feed and reverse osmosis water They're also using rubber mats in the barns to protect the cows and water sprays to cool them down to ensure that goodness of milk can come to our table without compromising our health.
Organic dairy farming is really fruitful in today's lifestyle. The organic milk producers have brought a better chemical free healthy drink options in India. Consumers are getting high quality and pure milk with spending some extra bucks. At last we can say organic milk is promising a better and healthier future.