Source: thesmetimes.com
India's premium brand of fresh cow's milk, manufactured by "Macro Dairy Ventures Pvt Ltd", today announced the launch of its three variants of Homogenised Milk in Punjab and Delhi-NCR. The milk will be available in one and two litre bottles at a retail store close to you and also announces TruMilk brand ambassador, Amrita Mukherjee (Pihu of Bade Ache Lagte Hain).
TruMilk products include 3 variants of Milk, Curd, Namkeen and Sweet Lassi and Ghee. All TruMilk products are 100% Premium cow milk. All the products are made under strictest hygiene standards meeting the best international practices in dairy farming.The living conditions, diets and milking processes of all the TruMilk's products are unique and have created a new paradigm in dairy Industry in India. TruMilk is committed to deliver, unadulterated and hygiene milk to its consumers.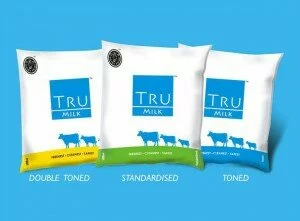 Expanding the reach of its pride of cows' concept, Farm to Home (F2H), to combat the milk adulteration menace, TruMilk is supplied via refrigerated vehicles to the consumers to maintain the originality. " TruMilk guarantees fresh cow milk available as fresh as it could be available in North America or Europe because of its 100% purity. TruMilk is distinctly different from regular milk. For the processing of TruMilk, we follow the best international practices in dairy farming and world class processing. Each and every TruMilk cow is vaccinated on time and milked in hygienically proven European milking parlour," said Ms. Amandeep Khangura, Director, TruMilk.
TruMilk is manufactured by Macro Dairy Ventures Ltd and distributed by Prime Milk Specialties Pvt Ltd. TruMilk is chilled at 4 degree temperature immediately after milking. The three variants will be available in SM (4.50%), TM (3.00%) and DTM (1.50%). "No other fresh milk producer goes to the extent to bring clean, fresh and safe milk. Exceptional milking, chilling and processing for TruMilk is the cleanest cows' milk in today's dairy market in India," Ms. Khangura – Director, TruMilk further pointed out.
Stressing the importance of pure cow milk, Ms. Khangura said that cow's milk rejuvenates and strengthens various tissues and it also improves memory and boosts immunity. "Cow's milk is easy to digest, absorb in the body and does not deposit cholesterol in our veins and hence the risk of heart attack is reduced since cow milk has 4-5 per cent fat compared to buffalo milk which has 8-10 per cent fat," he added.