Source: deshgujarat.com
Surat District Milk Producers Federation Ltd (SUMUL dairy) on Monday performed ground breaking for Rs 95.30 crore two new ambitious projects at Navi Pipardi and Bajipura.
According to Rajubhai Pathak, Chairman of SUMUL, Rs 25.60 crore ice cream project will come up at Navi Pardi based cold storage of SUMUL. In initial phase the plant will produce 10,000 liter ice cream per day.
SUMUL has 35 vigha land at its Bajipura based cold plant where Rs 68.70 crore powder project is planned. The plant will produce 30 MT powder per day.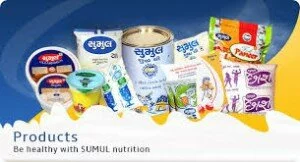 Presently SUMUL dairy collects 15 lakh liter milk. It will be utilized for these two plants and more revenue will be earned.
The plant will make baby food, brown beverage, whole milk powder and skim milk powder.
Both projects will complete in 18 months period. The additional income earned from this plant will result in to additional Rs 50/kg fat payment to milk producers.
Pathak said, SUMUL will start bakery project work next month at its Chalthan plant.