Source:newindianexpress.com
Tiruvananthapuram Regional Co-operative Milk Producers Union (TRCMPU) under Milma is set to boost its sales to touch five lakh litres a day by wooing customers with gold coins. Gold coins numbering 1,500 and weighing 1 gram will be given to customers through draw of lots under 'Kanakadhara' scheme. The lucky draw will be held thrice – on March 5, March 21 and April 5. 500 coins will be distributed in each phase
A unique eight-digit code will be printed on milk packets for 45 days for identifying the winners. Lucky customers can produce the used milk packets at the dairy. The results of the draw will be available on www.milmatrcmpu.com and from recognised Milma agencies.
The scheme will be available in Thiruvananthapuram, Kollam, Pathanamthitta and Alappuzha districts coming under the Thiruvananthapuram Regional Cooperative Milk Producers Union Ltd, from February 16. Milma agents have been encouraged to sell more milk packets under the scheme.
600 agents will get coins through the lucky draw. "We are looking for a 10 per cent increase in sales through this campaign," said the TRCMPU chairman. If the scheme is a success, milk sales will touch 5 lakh litres a day from the 4.70 lakh litres a day sold at present.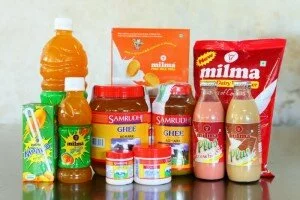 On the competition faced from other milk dairies the chairman said that none could match the quality assured by Milma.
Job Guarantee Scheme
TRCMPU which introduced the first-ever employment guarantee scheme in the country for dairy farmers will be distributing `2 crore from its fund. It will hold the distribution function for farmers in Thiruvananthapuram on February 15. Farmers in Kollam will get it on February 16 and and those in Alappuzha on February 24.