Source: fnbnews.com
Indian dairy industry has exhibited spectacular growth during the last three decades. In the liberalised era where the global village concept is acquiring momentum across the globe, India being the largest milk producing country in the world has specific advantage in providing food security, nutritional security and viable returns to large proportion of world's population. Since more than one billion people are relying on dairy farms, dairying plays a major role within the economics of numerous communities, regions and countries across the globe
According to department of animal husbandry, dairy & fisheries, Government of India, Indian dairy sector is estimated to be worth Rs 3.6 lakh crore which produces around 17 per cent of world's total milk production from 300 million cattle. Annual growth rate is about 10 per cent and dairy industry is predominantly controlled by the unorganised sector which accounts for nearly 85 per cent of the market output.
Prospects for value addition
Analysis of the consumption of milk and milk products in India reveals that 60% of consumption is fluid milk and rest is consumed in the form of butter, clarified butter, cheese, curd, cottage cheese, ice cream, dairy whiteners and traditional sweets. Further, the private sector is showing spectacular growth in Indian dairy sector.
Protein malnutrition is an emerging challenge among human population in developing and underdeveloped countries. The easiest way through which protein malnutrition can be corrected is through promoting consumption of animal protein sources like milk and milk products. Of the total new born babies in India, average birth weight of 40 per cent newborns was below 2 kg. Indians spend 40 per cent of their daily income on food alone of which 28 per cent for animal protein sources like milk, milk products, meat, egg, fish and their products in urban and 26 per cent in rural areas. With regard to vegetables, pulses and fruits it is 26 per cent and 24 per cent respectively. So there is huge demand for dairy products within the globe. But supply is limited. Major challenge is to correct the supply-demand mismatch and exploit the increasing market potential across the world.
Globally dairy industry is emerging as one of the biggest domains of food industry.
Value addition of fluid milk fetches better profit margin. Dairy products demand in India has increased dramatically in both rural and urban sectors. Thus the immediate challenge is to create greater demand for dairy products.
As far as Indian dairying is concerned, cross-bred cattle population is nearly 23 per cent and productivity per cattle is comparatively less. Government of India's initiative in dairy sector namely National Dairy Plan is envisaged to increase the productivity of milch animals and thereby increase milk production, provide rural milk producers with greater access to the organised milk processing sector by strengthening and expanding milk procurement system at the village level. It aims at creating better value for milk through value addition.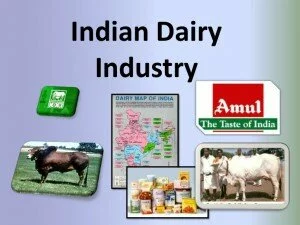 Ministry of food processing industries is implementing programmes to increase dairy processing and value-added products in the country using appropriate technologies in tune with the increasing demand of dairy products within the country and abroad. Associated Chambers of Commerce and Industry of India (ASSOCHAM) reveals that India's dairy sector is likely to reach 190 million tonne in 2015 and is expected to reach US$100 billion by 2015.
As a sequel to globalisation, Indian dairy sector had witnessed quantum jump in trade of dairy products across the world. India prepares to tackle the international market following Japan, where milk consumption today, has increased to 70 kg per capita from a mere 20 kg in the '60s – the consumption of dairy products in other Asian countries is also growing. As far as India is concerned, per capita milk consumption per day is around 282 gm. So recently, ICMR raised the requirement as 300 gm of milk per day. India, having 28 per cent of Asia's population, accounts for more than half of the milk output with enough growth potential to explore international markets. In globalised era where India signed in GATT and ASEAN agreements, the country can fully exploit the export opportunities to tackle the demands of the international market. But this requires sufficient measures to meet the sanitary and phyto-sanitary specifications – prescribed by Office International des Epizooties (OIE) under the auspices of the World Trade Organization (WTO) ranging from the quality assurance of processed dairy products to the health status of livestock.
Processed Dairy Products & Export
Dairy cooperatives account for major share of processed liquid milk marketed in India. Milk is processed and marketed by 170 milk producers' cooperative unions under 15 state cooperative milk marketing federations. Over the years, several brands have been created by cooperatives like Amul – GCMMF (Gujarat), Vijaya (AP), Verka (Punjab), Saras (Rajasthan), Nandini (Karnataka), Milma (Kerala), and Gokul (Maharashtra).
Of the dairy products which fetch better prices in the international market are cheese, dairy whitener and creams. Important constraint in export of dairy products from India is quality concerns. Moreover there is huge demand for ethnic dairy products of India like Indian ghee and butter due to specific aroma. Many of the dairy products exported to developed countries are getting rejected due to poor standards. According to OIE, exporting countries should be free from contagious diseases like foot and mouth disease. Traceability, antibiotic residues and heavy metal contamination along with poor microbiological standards affect the export of dairy products.
As far as India is considered there is huge potential for stakeholder-based products. There is huge potential for ready-to-eat and ready-to-cook food products. In the changing environment, women are not confined to the kitchen, but they are emerging as home managers. Food outsourcing is an emerging area across the world. On an average, 65% Indians above 60 years of age are suffering from either hypercholestremia or diabetes. They require customised dairy products. Children require high calorie dairy products with increased quantity of protein and fat. Cheese is having good market potential in the international market. But India is unable to tap the export potential of cheese due to poor standards. The organised cheese market including its variants like processed cheese, mozzarella, cheese spreads, flavoured and spiced cheese, is valued at around Rs 4.5 billion. Processed cheese at 65% of the overall market is Rs 3 billion. Cheese spread has a market share of around 30% of the total processed cheese market. The market for cheese cubes, slices and tins is growing at an annual rate of around 15%. Gujarat Cooperative Milk Marketing Federation (GCMF) with the Amul brand continues to be the main operator in the branded cheese market in India. It pioneered the market for processed, branded cheese and developed the technology to make cheese from buffalo milk even though across the world cheese is made from cow milk.
Britannia Industries joined the fray in the cheese market in mid-1990s through an arrangement with Dynamix Dairy Industries (DDI). The plant designed by Valio of Finland is run on technology tie-up with Schreiber Foods of the US. Schreiber is the largest supplier of processed cheese to fast food chains in the US with expertise in sliced cheese. Britannia's cheese is sold in tins in the form of cubes, and in individually wrapped slices in packs of fives and tens. The slices are being promoted more aggressively worldwide, and these account for a bulk of cheese consumption. Amul followed Britannia in launching slices. Its cheese spread in the form of paste has been well received in the market. Britannia has been concentrating on metros and large cities. The network covers some 60,000 dairy outlets equipped with cold cabinets, refrigerators and insulated boxes and Amul covers nearly 5.5 lakh retail outlets.
French cheese major, Fromageries Bel, a 10-bn French franc outfit, has entered the Indian market with La Vache Kirit or the Laughing Cow. Its target market is Delhi and Mumbai metro under premium food brands, Ferraro Rocher and Ricola. The Bel product from Poland is exclusively for the Indian market. Along with Laughing Cow, Woerle's Australian cheese brand, Happy Cow, Nestle and Kraft's brands are also started marketing their products in the Indian market.
Probolene, Colby, Mozzarella and Parmessan from Italy, Cheddar from Dutch and Gryueve are some of the overseas brands available in India. They are competing with established players like Amul, Britannia's Milkman and Dabur's Le Bon, enjoying substantial market shares in the overall Indian cheese market. The US-based Philip Morris, which brought Kraft cheese brand earlier, has gained a significant presence in the market. The rest of the market is spread among Verka, Nandini, Vijaya and Vadilal.
Dabur in collaboration with joint venture company, Dabon International, a 50:50 joint venture between Dabur India and French dairy products major, Bongrain launched product range of 20 different varieties of cheese under LeBon brand. Dabon has a manufacturing facility at Noida with an installed capacity of 12,000 tonne per annum. Recently Dabon was banned from marketing flavoured milk and processed cheese in the country. Leading processed cheese brands in India are Amul, Britannia, Dabur (Le Bon) Vijaya, Verka, Vadilal, Kraft and Nandini.
The market for dairy whiteners (commercially known as beverage milk powders and condensed milk) and creamers is around Rs 3,000 mn. Since India is a major consumer of tea and coffee, there is huge potential for milk powders. Moreover whiteners/creamers find a high level of institutional acceptance, especially by railways, hotels and restaurants, airlines, hospitals and nursing homes and corporate offices. The institutional market can be tapped initially, especially in airlines, railways and hotels. The penetration can then be extended to the household sector. The potential for exports to Asian countries, the Middle-East, the Gulf and Africa could be exploited.
Apart from MNCs like Nestle and companies like Britannia, Indian enterprises like Amul, Sapan, Vijaya, Mohan, and Parag have made perceptible progress and are available in pouches, tetra packs, and cups. Nestle India with its Everyday dairy whitener has established its brand well. It has also entered into the market with its Nestle Pure Milk and, of course, a product in its niche area, Nescafe Frappe, having earlier launched UHT milk. While Sapan characterises it as Dairy Special (instant milk mix for tea and coffee), Vijaya is the only UHT processed milk homogenised brand sold in the market in 200 ml and one litre tetra pack. Amulya, Meadow, Mohan, Parag and Shweta dairy whiteners are in the form of powders. Mohan also markets a non-dairy whitener alongside its dairy type product.
There is immense potential for butter milk, lassi and flavored lassi. Amul and different milk unions are marketing these products through their outlets. Moreover Nestle, Britannia, Danone, Nandini, Vijaya, and so on are having proportionate market share in the Indian market. Danone's (French Company) flavoured lassi is famous due to its divisibility nature. Indian dairy firms are trying to tap opportunities in the East African milk processing markets where demand has surged amid rapid urbanisation and rising income levels. This comes at a time when several global dairy giants are looking for acquisition possibilities in eastern Africa and leading local milk producers are trying to consolidate their market share through aggressive buyouts.
Import from India
Government of India banned import of milk and dairy products from China due to melamine content. Melamine is a precursor for plastic manufacturing which causes toxicity in children. In order to increase non-protein nitrogen, Chinese forms added melamine in cattle feed which caused toxicity in children. Russia, South Africa, the Middle-East and other Asian countries are importing dairy products from India. India's export of dairy products is oriented towards developing and underdeveloped countries. But India is exporting skimmed milk powder to EU countries. Exporters of dairy products are expecting increased opportunities in the Russian market after its banning of food imports from the US and EU in retaliation against Western sanctions over Ukraine. Amul, owned by Gujarat Co-operative Milk Marketing Federation (GCMMF), which was indirectly exporting skimmed milk powder (SMP) to Russia, may now launch its own brands there, it is learnt. Amul reportedly plans to go in for certification of its plants by the Russian authorities and may enter that market with products such as butter, cheese and milk powder. India's SMP exports to Russia grew 10 times to about 3,120 tonne worth Rs 67.16 crore in 2013-14 from the previous year's 310 tonne valued at Rs 4.53 crore.
Awareness on deleterious effects of pesticides, heavy metals and antibiotics in food products seems to be motivating policy-makers, entrepreneurs and farmers to move towards organic farming. Verla represents authentic products which are produced from 100% Dutch organic milk. The pure and soft taste of these products raises awareness.
Annual growth rate in food and dairy industries in the country is 20 and 10 per cent respectively. In order to exploit the market, these sectors require market-led production, processing and technology in tune with the industry demands. This will help to position Indian food and dairy industries to the level of international standards.
Policy Recommendations
India would have to be competitive on the quality front, lest the potential gain from reduced tariffs in ASEAN countries is eluded.
India has to address the standards demanded by trading partners, and standards for environmental protection, animal welfare and other non-market attributes of livestock and dairy products to ensure harmonisation within the WTO
Indian dairy industry needs appropriate production, marketing, trade policy and its periodic revival to keep pace with the rest of the world and remain competitive to grab opportunity regarding international trade.
In the WTO regime, cheap imports and absence of adequate protection measures, safeguarding income and livelihood of poor farmers have as emerged issues that need to be addressed by policy makers.
The Indian dairy sector would be competitive only if the export subsidies on dairy products are abolished.
To meet these requirements – both domestically and in the world markets – modernisation of supply chain encompassing producer and consumer is the need of the hour.
Increasing import at the low range of the world price would cause enormous loss of employment in the country and, therefore, on this account, the sector requires protection from low world price of milk.
It is highly imperative to identify the major constraints in livestock sector and to chalk out ways and means to improve the competitiveness of livestock sector so that farmers will be able to cope with the new market regime of the post-WTO era.
Awareness programmes on quality of feed and fodder assumes great significance. NDP envisages productivity enhancement through ration balancing and introduction of new technologies for formulation of mineral mixture, densification straw and fodder seed production.
Awareness on scientific breeding, feeding, disease control and marketing will help to attain sustainability in dairying. Strategic programmes are required for reaching out among smallholder population for facilitating technology transfer and extension support. Veterinary services should be more oriented towards preventive rather than curative in nature. Kerala could achieve substantial growth in this sector through complete network of veterinary institutions at grama panchayat level.
To maintain quality and food safety standards, monitoring of the entire commodity chain is required. Food Safety and Standards Act 2006, Hazard Analysis and Critical Control Points/ISO22000, Good Manufacturing and Retail Practices, and Total Quality Management play a key role in this sector. Farmers have to be linked with processing and exporting agencies so that quality can be ensured right from the raw material production stage. Involvement of veterinarians in foods safety business is a must.
Indian dairy sector would be competitive only if the export subsidies on dairy products are abolished. In the era of globalisation and liberalisation, real challenge before Indian livestock sector would be Sanitary and Phytosanitary Measures (SPS), Agreement on Technical Barriers to Trade (TBT) and animal welfare related issues. To meet these requirements, modernisation of supply chain is to be given due importance.
Growth of Indian dairy industry would have to cope with rapid transformation that is taking place in the world economies under WTO regime which needs appropriate production, marketing, trade policy and its periodic revival to grab opportunity regarding international trade.
The industry should identify the bottlenecks and target niche segment of international markets. In India, export of dairy products face a number of constraints or problems like prevalence of livestock diseases such as foot and mouth disease, importers' insistence on labelling dairy products as manufactured from cow milk and quality issues related to pesticides and antibiotics.
To make dairying profitable, age at puberty of cattle has to be reduced. One calf per year for cows and one calf per 15 months for buffaloes are ideal. Value addition of milk will improve profitability.
There is need to study the sanitary and phytosanitory stipulation of those countries to prepare the products acceptable in line with the stipulations laid down by those countries.