Source: businesstoday.in
Amul, the brand marketed by Gujarat Co-operative Milk Marketing Federation (GCMMF), is planning to set up four dairy plants entailing a total investment of Rs 600 crore in Uttar Pradesh, a top company official said on Thursday.
"We are putting up big plants in Lucknow, Kanpur, Varanasi and Saifai. This would be around Rs 600 crore of investments," GCMMF Managing Director R S Sodhi announced at the UP Investors' Conclave organised on Thursday.
He said the entry of Amul will help in generating employment for lakhs of people in the rural UP. The dairy major is already collecting 5 lakh litres of milk from 1 lakh families and giving around Rs 700 crore per annum to the rural UP.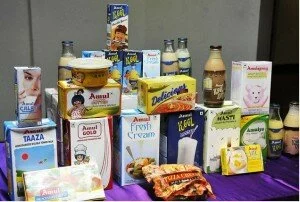 He said the company plans to increase its milk procurement from the state to 45 lakh litres over the next three years. "In the next three years, our target is to reach to 5 lakh families collecting 45 lakh litres of milk and giving every year around Rs 4,000 crore to the rural UP," Sodhi said. In order to attract investors, the UP government on Thursday organised an investors' summit in the financial capital of the country.
In the meeting, the UP government received an investment commitment of Rs 33,000 crore from LG, Reliance Jio, Godrej Agrovet, Idea Cellular, Toshiba Power and ITC, among others.