Source:thehindu.com
Following requests from consumers, Aavin is ensuring availability of milk throughout the day at 450 locations across the city. After early morning supply of milk to booths for monthly card holders and retail outlets, it will run 15 additional supply routes.
Sources in the Tamil Nadu Cooperative Milk Producers Federation, whose popular brand is Aavin, said they were running the additional routes due to demand from consumers. "Milk is usually sold out in the morning and consumers are unable to get it in the evenings. Now, our franchise outlets and parlours will sell milk till 8 p.m.," said a source.
The second round of milk supply would be carried out by Aavin's own fleet of trucks and this would also help in ensuring supply to caterers.
"So far, we have been supplying only during the mornings to caterers as well. Based on demand, we are commencing evening supply. We give a discount of Re. 1 on MRP for caterers who buy in bulk," said a source.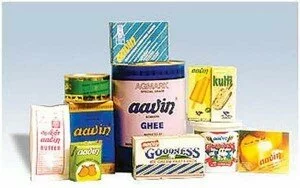 L. N. Srinivasan, a caterer of Mylapore, welcomed the move. "We need not arrange for storage of milk now. Also, this would ensure fresh milk for coffee in the evening," he said.
P. Muralidharan, a resident of West Mambalam, recalled that earlier, Aavin used to supply milk in the evenings too, through automatic milk-vending machine booths.
Aavin currently supplies 11.50 lakh litres of milk daily to the city. Of this, over seven lakh litres is in blue packets (toned milk) priced at Rs. 18.50 per half-litre and two lakh litres in green packets (standardised milk) at Rs. 20.50 per half-litre. Consumers can call Aavin's 24-hour helpline 1800 425 3300 for queries and complaints.