Source: thehindu.com
Aavin's district unit is looking forward to generating a profit of Rs. 2.74 crore during this fiscal owing to increase in procurement, and expansion in its distribution network.
Procurement during 2015-16 has risen to 3,16,543 litres a day through the unit compared to 2,32,417 litres a day last year, said A. Miller, chairman of Milk Producers' Federation.
Erode District Cooperative Milk Producers' Union is the biggest in South India, in terms of processing capacity, and production of milk powder, Mr. Miller said, addressing the general council meeting of the Milk Cooperative Societies on Thursday.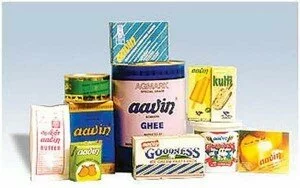 The Aavin plant in the district has a capacity to produce 40 tonnes of milk powder, 12 tonnes of butter, and eight tonnes of ghee, he said. Union president P.C. Ramasamy, vice-president Subramaniam, among others spoke.
Milk from within a radius of 40 km is supplied to the Feeder Balancing Dairy and through chilling centres. Besides milk powder, butter and ghee the union manufactures popular products like milk khoa, flavoured milk, masala buttermilk, and ice cream for local customers. The products of high quality are in good demand in the upcountry markets.