The AMUL Ice-cream Story
It was 1991 and if I remember correctly, I was to soon take charge of Gujarat Co-operative Milk Marketing Federation or GCMMF – the firm that markets the brand 'AMUL'. As the Managing Director of the organization, my role would involve providing direction, oversight and safeguard the interests of the million or so milk producers who own the brand.
Soon after taking charge, I realized that the winds of change were already blowing. Before 1991, during the pre-liberalization era, AMUL already was a dominant player in the dairy business in India. Many foreign countries and corporates were desperately trying to tap the Indian consumer market. Much to their dismay, Dr. Kurien's leadership had helped AMUL gain a foothold in that market.
But thanks to changing communication technologies, there was a flood of information channels – which meant accessibility to information for the consumer was becoming easy and fast altering consumer expectations. It was becoming increasingly clear that the Indian markets, the nature of competition and the consumer lifestyle were on the verge of radical transformation and that these factors were bound to impact the young nation dramatically.
To gain an insight into the consumers' mind, about their needs and expectations of their most beloved food brand; AMUL conducted a research in 11 different cities. The results of the research were startling! When asked to name one product that consumers expected AMUL to launch, which was not a part of the product offering then; 99% consumers from all over country stated 'Ice-cream'. It was quite a revelation, as we were all trying to market chocolates over the last decade!
When asked, 99% of the people said they knew what ice cream was, and they perceived it to be a good treat! Everyone had tasted ice cream somewhere or the other and when asked as why they didn't buy it regularly, they said that it was not easily available and affordable.
From this study, we realized that irrespective of our cooperative construct, we were a marketing firm and needed the consumers' to have a bigger say in our decisions.
They had wanted Amul ice cream since long! They wanted us to make ice cream affordable and available.
Hence we decided to venture into ice cream business and make it available and affordable!
Dr. R.P. Aneja had been the NDDB secretary and headed Sugam dairy some years before 1995. Sugam dairy was a product development and test marketing unit put up by NDDB and Baroda dairy where Dr. Aneja had developed mass production process for products such as Shrikhand, Gulab-jamun and even a range of ice creams. However most of this lie untouched and wasn't leveraged to create and market such products. We decided to use this pilot plant and launch ice cream in the city of Surat.
But when we went for a meeting with Dr. Kurien, he asked us to wait a little since, at that time, ice-cream manufacturing was limited to small scale and catered predominantly to urban metro markets. But that was about to change. Soon thereafter, Unilever had managed to buy over Kwality Walls and other similar ice-cream brands to consolidate their presence in the category. We had also learnt about aggressive launch of Walls ice cream in the Middle East and Sri-lanka. Having seen all this, I decided it was strategically necessary for Amul to take on the competition and emerge as the No.1 brand of ice cream.
I used to meet with my team of young marketing and sales professionals every Friday, and so engaging was the initiatives that we would spend hours discussing the ice cream launch strategies. Finally the D-day arrived and we launched ice cream with only 100 outlets in Ahmedabad.
We did not decide on the price of the ice cream almost till just before the launch. Amul's strategy had always been to price a quality product with affordability in mind. We decided to price a 100ml cup of ice cream at the MRP of Rs. 6. People used to ask us how we could afford to sell at such a low price, but I believed that if we could sell 1 kg of skimmed milk powder at Rs. 60 per kg, we would not lose money by selling ice cream at Rs. 6 per 100 ml cup!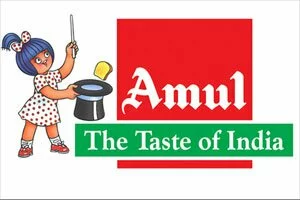 No sooner had we launched the ice cream in Ahmedabad; its demand went through the roof. Retailers and consumers alike, all liked the quality of the ice cream.
Fairest price! And the simplest position – 'Real Milk Real Ice-cream'!
The Advertising agency had done a mind and mood study and concluded that 'Real Milk Real Ice-cream' was a good positioning statement; particularly when the competition was selling 'Frozen Dessert' using vegetable oil as substitute for milk fat. Amul's best quality, low price and simple but strong positioning statement worked out well.
The day we launched, I received a call from a journalist, Partho Ghosh. He wanted to know about our plans. In my response, I asked him "what is your age?" He replied "26 years". I told him that 'you' represent future India and by the time you are 31 years, i.e. in five years, my goal is to make Amul the no.1 ice cream brand in India.
Thanks to the trust of a billion Indians, Amul overtook competition by miles, out sold all of them together by 1:4 and demonstrated that Amul is a different breed of organization.
Overwhelmed with the response, next we adopted a different launch strategy. We assembled a Task Force of 50 people drawn from different areas and deployed them in Mumbai with the objective of creating and starting 300 new outlets in 30 days. They worked very hard without looking at the time, like a highly motivated army at war!
Our success in Mumbai and Gujarat gave us confidence.
Then we heard that one of the partners of Vadilal; another ice cream brand of that time, had a plant at Boiser, but wanted to sell. We got it valued and I convinced Valsad Dairy (our member union), which is located closest to Mumbai, to buy it out. We struck the deal and took over that unit and quickly upgraded its plant, machinery and brought in the processes to enhance its capacity to almost 100,000 liter per day. At the same time, we also expanded and built another 100,000 liter per day capacity plant built at Mother Dairy Gandhinagar.
Buoyed by the initial success of the product, we started expanding into several markets one after the other, in line with our ten-year expansion plan. It became clear that we needed to set up about ten ice-cream plants all over India in order to keep the transport costs at a minimum and still reach all the major markets. Also, to become a clear winner in the market we would have to create almost 75000 to 100,000 outlets with sales of at least 3 Ltr per day per outlet. This would enable us to outsell our competitors by a margin of 4:1.
For the successful operation of an ice-cream business, it is critical to establish a cold-chain throughout the distribution network. For that purpose it was important to purchase a large number of deep-freezers with minimum capital outlay. To discuss the matter, we invited the CEOs of two of the most well known Freezing Unit manufacturers. At the meeting, when we said we would like to place an order for 5000 deep-freezers, they simply would not believe me. We had to share my growth forecasts and our recent successes to apprise them of our aspirations. But the key to our success was a low cost model and that principle applied to all elements of the product development and distribution.
For this, the deep-freezers needed to be procured at the lowest possible cost and when I shared my view of the expected price of Rs 10,000 they disagreed as some of them were being sold at Rs 25,000! Every product has demand elasticity and I assured them that by scaling their manufacturing operation in tandem, the economy of scale would allow them to market the same freezers for less than Rs. 10,000. My logic was very simple to be honest – if a vertical fridge can be bought for under Rs 10,000 then why is it not possible to procure a point-of-sale deep-freezer for a similar price! The key to this equation was the scale & volume.
We were eventually able to convince one of the major suppliers to drop the price Rs. 10,000. We partnered into a model, where we asked the supplier to raise a 100 person sales task-force on their pay-roll and allow us to manage that task-force to align with our Ice-cream market opening plan. This would allow both of us to aim for as many Ice-cream parlors as possible in every market that we opened – a pure win-win situation where every one outlet opened means more Ice-cream sales for us and Freezer sales for the supplier. As a result we were able to open near about 7000 to 10,000 outlets in a year leaving the competition way behind.
Soon we put up new plants in Nagpur, Delhi, Kolkata and entered into arrangement with Karnataka Milk Federation to manufacture Amul Ice-cream at their Bangalore plant and similarly with Pondicherry Milk Federation at their Pondicherry plant. Market by market, we were soon making a dent into the competition's sales figures and gaining the share.
The nail in the coffin was our unique strategy to market Amul ice cream along with locally branded ice cream marketed by our cooperatives in their own regions. By learning and marketing Amul Ice-cream as well as the local brand owned by the cooperatives -the two together hurt competition more.
In terms of the variety itself, we developed several options for common taste palettes, but kept price as low as possible. I observed however, that the competition was marketing 100 ml ice cream Cone at Rs. 22 – 25 and this was their highest margin ice cream product. While on the other end we were selling 100g ice cream packed in plastic tubs at Rs. 8!
This meant, that if we packed the same ice cream in a biscuit cone the benefit is two folds – people can eat the biscuit unlike the plastic tub delivering more value and secondly, even by adding biscuit to the ice cream, we could price it substantially below the competition. At Rs. 10 per ice cream cone, the expected demand was phenomenal.
That meant we could reduce the per-unit trade margins but due to increased volume the distribution would earn more overall. More importantly the business was sustainable because; I predicted, that in long run biscuit cone prices would come down as Parle, a major biscuit brand used to sell 100g biscuit at Rs. 4 where as we were charged almost a rupee for a single cone!
Significantly buoyed ice cream sales allowed me to reduced retail margin to Rs.1 as against Rs.5 offered by the competition. Further more, we reduced distribution margin by half. Also to factor that there was 15% excise duty and about 8% sales tax. This meant, that if we price at Rs 10 vs. Rs 25 then we were saving significantly in taxes too! In other words, all supply chain partners including government were sacrificing, hoping that gain in volume would compensate.
One day when I was returning to my office after lunch I stopped by at an Amul parlor. I saw a few impoverished construction workers sitting on footsteps of an adjacent shop and each one had bought a TRICONE and was relishing that. That was my most satisfying moment in this ice cream journey. I concluded that we had crossed a major milestone.
In 2007, we also added sugar-free and probiotic ice-creams to our range. Our presence & experience in other related foods business meant that quality was never compromised. To scale the business itself, we developed unique business processes on procurement of cold chain equipment, managing sales, delivery, managing production, quality etc. Also with our own Retail Transformation Initiative we had simultaneously set up a goal to open more than 100,000 parlors to market our products and launch of ice cream gave us the edge to execute that project well.
My logic for our strategy is simple. We are the largest producers of milk in the world. We don't export milk and almost all milk is consumed by us. And as the nation develops, the demand for processed milk products will be among the largest in the world. With 95% awareness about the product and trials, ice cream enjoys ready acceptance in this country. All we need is to make it available in every city and town of India and make it affordable. We must do it at a speed much faster then competition and unless we committed blunders, we were bound to emerge as a brand to reckon with.
To make this possible, we had a young team of marketers, technologists and above all the member unions, all of who shared the vision to make Amul the number one brand in Ice-cream in India and prove that the challenge thrown at us by liberalization or otherwise, Amul, the soul of the white revolution, was ready to take on competition head-on and succeed.
We; following the footsteps of Dr. Kurien, wanted to show to the world we are different breed and we can do it. Come what may!
– B M Vyas
Mr. BM Vyas took-over as Managing Director of AMUL Co-Op. during expansion and opening up of the Indian economy & globalization in the 90s. In order to take on the competition, he championed Total Quality Management across the dairy value chain in Gujarat. Within a span of 16 years at helm of AMUL, he increased sales of AMUL to eight-folds (from Rs. 9.8 billion to Rs. 80 billion). He steered AMUL to be Asia's largest fresh Milk processor or No. 1 Dairy Brand in India as well as in Asia Pacific, as per Media Magazine Survey, 2009. Under his leadership; AMUL launched innovative and special Dietary products like Probiotic & Sugar Free Ice Cream, Probiotic buttermilk for the first time in India.