A Rs 23.46 crore ice cream factory set up in the Ambattur Dairy of Tamil Nadu Co-operative Milk Producers' Federation Ltd, which retails dairy and dairy products under the brand AAVIN, would be inaugurated next month, the state government said today.
A decision in this regard was taken at a review meeting chaired by Milk and Dairy Development Minister B V Ramana at the Secretariat, an official release said.
The factory has a capacity to produce 15,000 litre ice creams and 1,000 kilos of paneer a day, it said.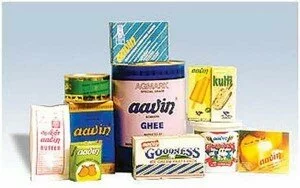 In the last four years, the state government allotted Rs 593.65 crore toward development of AAVIN due to which the milk production had been scaled upto 30 lakh litres per day from nine lakh per day.
Sale of milk that was two lakh litre per day had reached the target of 11.50 lakh litres per day now and steps were being taken to increase it by another two lakh litres, it said.
The release also said four more ultra-modern parlours would be set up next month in the city.
The company has taken steps to introduce "skimmed milk" and a sum of Rs 26 crore had been allocated at the Sholinganallur factory in this regard, it said.
Comments
comments